inch is under the hood. We increased the hood flange length to further increase the overall length, and make hood installation much easier. This body is designed to be used as Track Roadster, not a "Fad T". Track Roadsters need hoods!
Our Turtle Deck was designed from scratch to look similar to an original yet incorporates several improvements. First we added a rolled pan to the rear and sides for appearance and increased depth. Second, we extended the front to fill in the void left behind by the typically missing original body sill. Finally we made the turtle deck a functional trunk. It may not be big, but it is a lot better than nothing. The separate lid sits on a drip rail all around to keep the contents dry.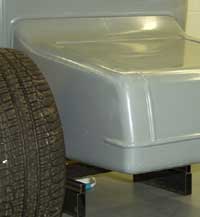 The body is reinforced with Core-Mat, to add strength and stiffness, not weight.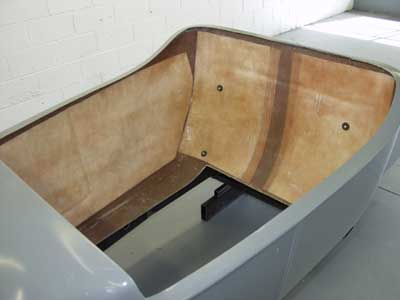 .
The body has a 5" wide flange in the bottom for strength and mounting ease. The turtle deck has a 4" wide flange for mounting to the body.