Use Your Browser Back Button to Return to Main Page
Own a piece of Indy 500 History
This offering is for the original genuine pieces and is a restoration project.
Here are the parts, with an inventory at the bottom of the page.
This page has many photos, so it may load slowly.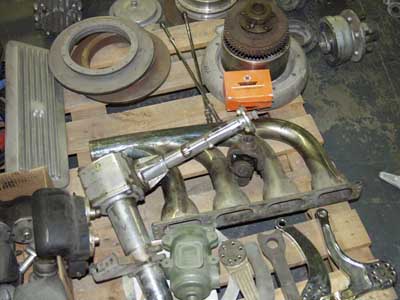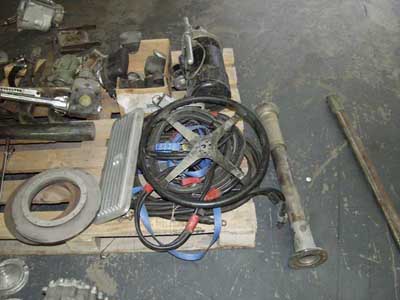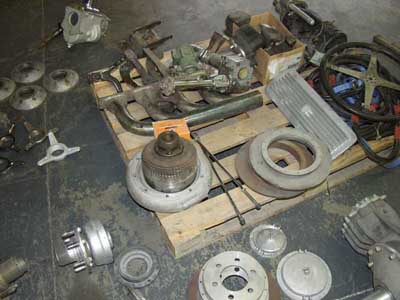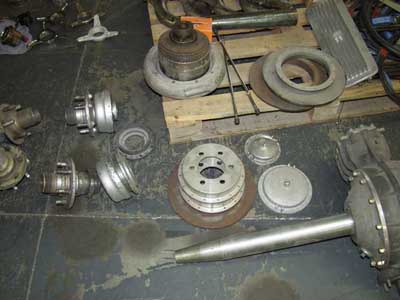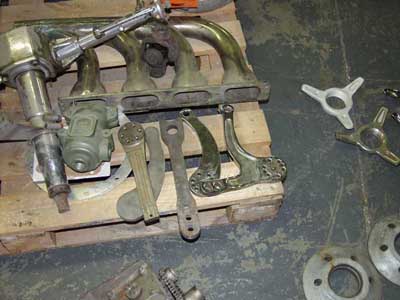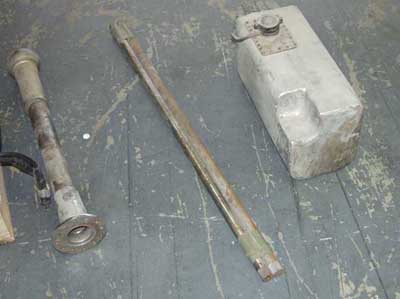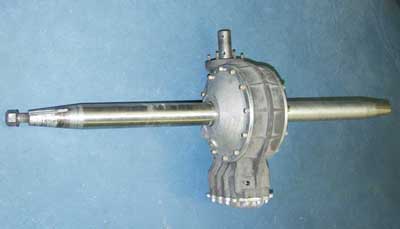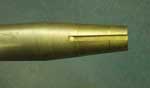 Parts Inventory
Original parts of the car included:
Frame, some pieces are usable.
Seat, usable
Hood
Driver Cockpit Side Panels, usable.

These panels are highly important and are two of the key components used to identify this as the original car.
Belly Pan, not usable, but important in identifying the car.
Steering Gear
Steering wheel, Original 17" Bell 4-spoke flat, excellent condition.
Header, excellent condition, beautiful craftsmanship, a mantel piece!
Tail
Fuel Tank
Other Parts likely not from the car originally:
Engine

4 Cylinder Offy, 270 cid,

#4 cams,

Hilborn injectors, engine stand, Engine rebuilt by Watson's shop.

Engine has been turned over and should be ready to run.

Engine is almost completely polished and is a thing of beauty.

Bell housing adapter with support rods
Engine plate
Flywheel, clutch
Model A trans case w/ aluminum U-Joint housing
Torque tube
Oil tank
Jones brass / glass Tachometer
Oil pressure & temp gauges
Starter, cables & battery cart
1 - Halibrand 3" Champ rear end, mag case, bearing carriers, hubs (6-pin),

appears to be rebuilt and ready to use.
2 - Halibrand spindles & front hubs
2 - Halibrand single spot front calipers, new brass sleeves
2 - Halibrand double spot rear calipers.
4 - Halibrand pressure plates for wheels
4 – Knock off's, nice
2 – Halibrand front wheels, smooth, w/ tires.

Tires are good condition "show only" tires.
2 – Halibrand rear wheels, smooth, w/ tires.

Tires are good condition "show only" tires.
Brake rotors & hats, (old and probably not safe to use, but included)
Reproduction Fuel filler cap castings.
2 – Rear Torsion Bars
Also included for the reconstruction of this car:
Tubing for main frame rails.
Front axle tubing.
All original photos and newspaper clippings from Indy 1953 & 1954 plus Langhorne 1954.
Decals for restoration

1954 AAA wing decal
1954 AAA 500 Mile Race
Monroe Shock Absorbers
Perfect Circle Piston Rings
Parts known to be missing are:
Nose & grille

Radiator

Front axle, radius rods, tie rod, drag link, front spring, shocks.

Engine belly pan

Hood side panels.

Bell housing

Transmission internal parts.

Drive shaft.