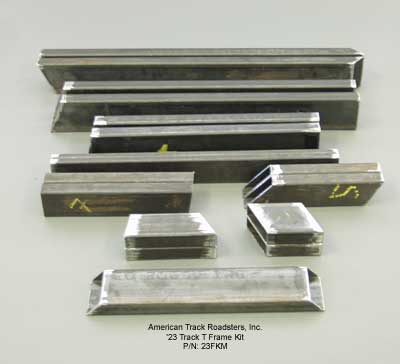 P/N: 23FKS: Not shown. This 16 piece kit has all of the tubes shown above, in rough cut blank lengths, for those who want to have the satisfaction of doing most of the work themselves. Purchase this kit with a drawing package which includes full size drawings of many pieces and all of the angle cuts. You cut the tubes to match the drawing, using the drawing as a gage to check your work and then weld it at home.

P/N: 23FKM: Shown above, same as above except all of the individual tubes are precision machined on our CNC machining centers, deburred and ready to weld. Use your garage floor to weld the frame together on, or for the ultimate in convenience, precision and flatness, purchase our portable welding jig.





P/N: 23FKW: Welding not your bag, no problem. We can fix you up with the frame completely TIG welded on our two ton cast iron jig … it doesn't get any flatter than that.

P/N: WF1: Not Shown. This compact, portable welding table / jig will be available soon to allow you to have the ease of working at bench height to clamp and weld our frame kit with precision and repeatability unavailable on the garage floor.
Packages available to fit '27 bodies.
DZ frames available for '23 and '27's